November 21st: Grants For Photographers, Filmmakers and Residences For Artists
Giving thanks not just on Thanksgiving Day, but every day.
Happy Thanksgiving!
From the entire Grants For Creators (GFC) team, we wish you a joy-filled holiday season.
Speaking of our team, I'm excited to announce that Kwameh Fonkeng has joined us as a Grants Researcher! That now makes us a mighty team of three.
Kwameh will be assisting us in finding more grants and other funding opportunities. From Day 1, he has been a BIG supporter of this project, and I'm so thankful to be able to bring him on board.
Continuing to publish this newsletter every other Monday and building a team would be impossible without your support.
Thank you for believing in this newsletter and trusting us to be your eyes and ears as we search far and wide for funding opportunities that serve U.S.-based creatives like authors, journalists, writers, poets, podcasters, photographers, filmmakers, artists, small business owners, entrepreneurs, dreamers, visionaries, and more.
Whether you joined as a paid subscriber for one month or the entire year, thank you. Thank you for sharing this newsletter with your family, friends, and colleagues. We appreciate your support.
In the spirit of giving this holiday season, if you know of someone who would find this newsletter helpful, you can give a gift subscription by clicking on the button below.
Gift or donate a monthly subscription for $5 or an annual subscription for $60.
As for this week, there are 32 funding opportunities for you to browse through up to $75,000. Free subscribers will have access to the first seven.
We've also included a book scholarship for Black female college students (funding opportunity #13), a political journalist fellowship (funding opportunity #16), and funding for Latinx producers (#26),
Good luck!
P.S. Tickets to our upcoming Intro To Business Grants Writing workshop go on sale this Friday. Limited-time early-bird tickets start at $75. Replays will be available. 
P.S.S. Are you a podcaster looking to monetize next year? Plan for profitability with the 2023 Podcast Planner, which includes email templates for reaching out to brands, trackers, a production workflow spreadsheet, and resources to create a stand-out media kit.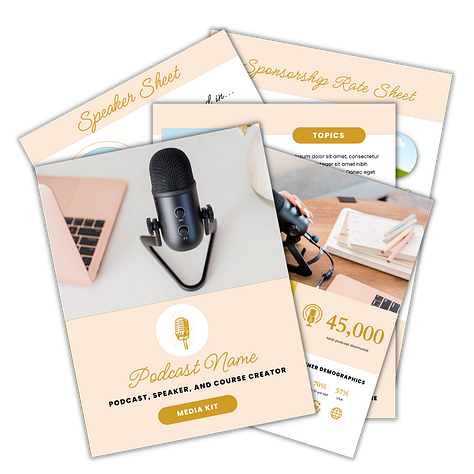 ---
1. Gender Equality Grant - For Journalists
This award is designed to help journalists report on issues related to gender equality and the empowerment of women and girls. While there is no budget range, the average grant is $5,000, but it may be more or less depending on circumstances.
Deadline: Rolling
---
2. Girls in Tech Startup Challenge 2022
This competition invites young women to detail the problem their startup aims to solve, their vision, and other details on their proposed web app, mobile app, or physical product. Pitches will be judged based on the product's innovation, framework, and market viability. Finalists get up to $20,000 in cash prizes to help them grow.
Note: All startups must be younger than 24 months.
Deadline: November 25, 2022
---
3. SheaMoisture Community Impact Grant
This award recognizes Black entrepreneurs who implement bold, equitable, innovative, sustainable, and scalable tactics that use business solutions to address community needs. Black-Owned businesses will win $10,000 in grant funding.
Deadline: November 27, 2022
» Recently Updated: Grants for Black creators, founders, and business owners
---
4. WikiCredibility Grants Initiative
This fund supports the development of tools, projects, or initiatives that strengthen the credibility and reliability of information within Wikimedia projects. Up to $10,000 per project.
Deadline: November 28, 2022
---
5. The Pitch by Metta
This is a virtual competition to find the next unicorn startup. The winner receives $25,000 cash and a 1-1 Zoom pitch with Metta.
Deadline: November 28, 2022
---
6. LookUp Innovation Challenge
The LookUp Innovation Challenge is now open for applications for exceptional youth ages 18-25 who are innovators, storytellers, and advocates with bold ideas. This award of up to $10,000 supports young leaders passionate about mental health and ethical tech willing to address the youth mental health crisis through digital well-being and youth-led innovative solutions, stories, and advocacy.
Deadline: November 28, 2022
---
7. 2023 New City Arts Fellowship - For Virginia Artists
This opportunity creates space, time, and financial support for Charlottesville, Virginia-area artists. This open call invites artists to consider how their work reveals unseen openings, sites of ongoing growth, unfused structures, and delicate parts that require gentleness and care. Each artist receives a month-long studio space grant, a $400 stipend, regular critiques, and a stocked pantry with their favorite drinks and snacks.
Deadline: November 29, 2022
---
This post is for paid subscribers